Puckett's Pond Minnesota Twins Top 20 Prospects: 1-5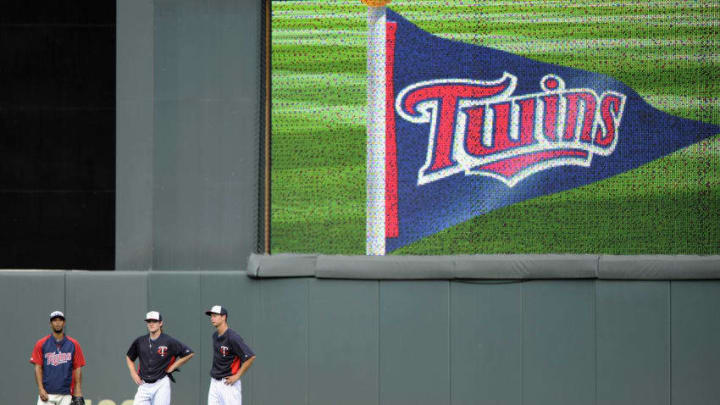 MINNEAPOLIS, MN - JUNE 19: Aaron Hicks /
Drafted by the Twins out of high school in 2013, Gonsalves has taken a consistent path up the minor league system, albeit a step at a time (2013: GCL/Elizabethton, 2014: Elizabethton/Cedar Rapids, 2015: Cedar Rapids/Fort Myers, 2016: Fort Myers/Chattanooga, 2017: Chattanooga/???).
What is incredible is the production that Gonsalves has had the entire way for the Twins organization. He's thrown 437 minor league innings at this point with a 2.22 ERA, 1.06 WHIP, a 9% walk rate, and a 27% strikeout rate for his career in the minor leagues, which is incredible to consider, never really having a slump along the way.
This season, Gonsalves has battled some injuries to start the season, but he's shown well now that he's healthy, with a 2.75 ERA, 0.99 WHIP, and a 14/82 BB/K ratio over 68 2/3 innings.
Gonsalves isn't a soft-tossing lefty by any means, but he doesn't have that sort of "stuff" that turns heads either. He works with a fastball that sits in the 90-92 range, touching up to 94-95 with excellent plane from Gonsalves' 6'5″ frame and good late wiggle as well. He throws a change with excellent sink, generating plenty of weak contact. His curve has taken a big step forward this season, spinning much tighter while he tinkers with a slider that has a look of a wipeout slider from his high angle, which would work well, but he struggles with consistency with the pitch.
Gonsalves has come a long way in his control and command with all of his pitches and is showing very well at the upper minors. He could push for a late-season run this year.