Minnesota Twins: Grading, Reflecting on 2016 Predictions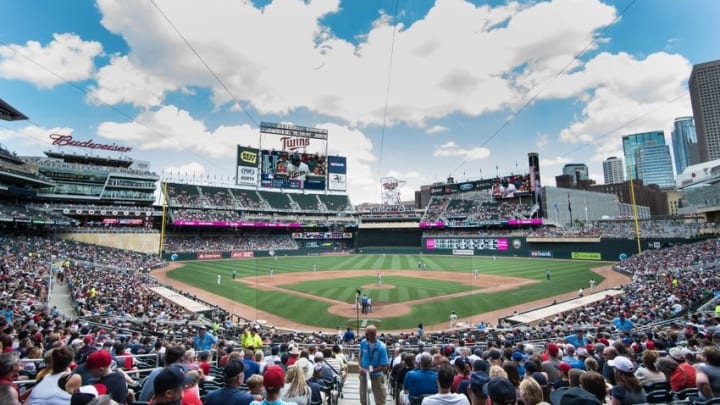 Jul 2, 2016; Minneapolis, MN, USA; A general view at Target Field between the Minnesota Twins and the Texas Rangers. Mandatory Credit: Jeffrey Becker-USA TODAY Sports /
The Minnesota Twins celebrate a walk-off win. Credit: Jordan Johnson-USA TODAY Sports /
At least I was smart enough to realize the Twins aren't a playoff contending team before the excruciating path to 103 losses began.
Even though I was optimistic about the Twins this year, I didn't predict the team would win the division. I hinted at the fact that the Twins would have a hard time making the playoffs.
Clearly, the Twins had a bigger issue to deal with, winning any of its games.
So much for saying the Twins would have a hard time making the playoffs.
I was too bold with my win total for the Twins. To match my previous prediction I should have predicted the Twins to win 82 or 81 games.
The Kansas City Royals failed to win the division again. The Cleveland Indians pitching staff proved to be better than anticipated. Even the Detroit Tigers surprised me towards the end of the season.
However, there is a silver lining. From second place to fourth place I was one win off of the actual final standings. Unfortunately, I had the wrong order of teams.
I was correct at least about Yoenis Cespedes. He needed to be the New York Mets offensive savoir again, as the Mets slumped down the stretch.
At the end of the day, I was incorrect where it mattered most. The San Francisco Giants ousted the Mets from the playoffs in the Wild Card game.
Looking back at the 103 loss season, here is a prediction everyone can agree on.
Next: Twins Fire Hitting, First Base Coaches
The Twins did finish dead last in the American League. Even worse, the Twins finished with the worst record in baseball.
Certainly it would be more pleasant in Twins Territory if the Twins finished with a winning record.