Minnesota Twins: Grading, Reflecting on 2016 Predictions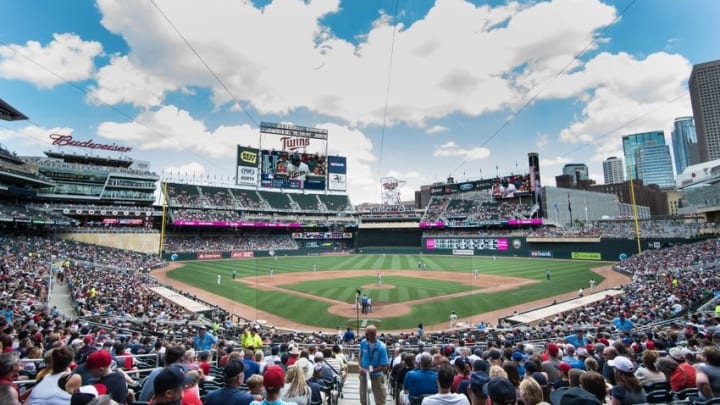 Jul 2, 2016; Minneapolis, MN, USA; A general view at Target Field between the Minnesota Twins and the Texas Rangers. Mandatory Credit: Jeffrey Becker-USA TODAY Sports /
Oct 1, 2016; Chicago, IL, USA; Minnesota Twins shortstop Jorge Polanco (11) celebrates with teammates in the dugout after his two run home run against the Chicago White Sox during the fourth at U.S. Cellular Field. Mandatory Credit: Patrick Gorski-USA TODAY Sports /
This is a boom or bust prediction. That said, my second choice was Kennys Vargas.
I picked Jorge Polanco, thinking the Twins would find a team desperate for an extra bench player or a team needing to replace an injured middle infielder.
The Twins did trade a middle infielder near the deadline. However, it was not Polanco. Instead it was Eduardo Nunez.
Instead of a "F", I gave myself a much deserving "F+" for how horrific this prediction transpired.
Kyle Gibson pitched awful the entire year. By the numbers, he matched his season best with one complete game. Additionally, Gibson walked the fewest batters and allowed the fewest hits in a full season.
That's it for the positives, if there were any. He posted his worst stats in a season with at least 20 starts.
Clearly, this prediction stinks. Time to move on.
Like the Rosario prediction, I'm a little proud of myself for predicting this.
Byron Buxton started out the season unable to hit. He slashed .156/.208/.289 and struck out 24 times.
However, he played exceptionally well after his September recall. Buxton upped his numbers across the board, slashing .287/.357/.653/ 9 HR / 22RBI after his return.
He didn't come close to winning the AL Rookie of the Year as some predicted. He didn't breakout either. However, he did disappoint fans who thought he was going to show off his true potential this year.
For that, I earned a "A".
Brian Dozier winning a Silver Slugger award turned out to be much closer of a reality than Park winning AL Rookie of the Year.
Jose Altuve recently won the American League Silver Slugger award. Yet, one could argue Dozier is deserving of the award.
Dozier led all American League second baseman in home runs and slugging percentage, and was third in RBI. He finished second in stolen bases, and tied for first in triples with Altuve.
Even though I failed this prediction, it wasn't all that far-fetched for Dozier to win a Silver Slugger this season.